Die fünf Sinne Teil 4 Riechen – Smelling in German
Riechen is an interesting verb and sense. Most of our taste (Geschmackssinn) comes from our ability to smell (riechen). That's why wine enthusiasts spend so much time smelling wine. The verb is not terribly complicated until you move to Switzerland, where smelling and tasting are the same word – namely "schmöcke" coming from "schmecken" and meaning "to taste." As we often smell things we wouldn't put in our mouths, it's needless to say some funny things can be understood when the Swiss talk to the Germans.
I also believe that Patrick Süskind's novel "Das Parfum" is one of the most interesting stories about smell ever written. Though it's set in France, it was written in German first.
Learn these verbs for describing smells and smelling in German:
riechen = to smell
Kannst Du das

riechen

? (Can you smell that?)
Das

riecht

ja gut! (That smells really good.)
schnüffeln = to sniff / to snoop (for animals)
Der hund

schnüffelt

an jedem Laternenpfahl. (The dog smells every lamp post.)
Was hast du hier zu

schnüffeln

?! (What are you snooping around here for?)
wittern = to get wind of an animal / to scent something (for hunters)
Der Hund

wittert

eine Spur. (The dog smells a track.)
Heinrich

wittert

überall Böses. (Heinrich always scenes something bad.)
duften = to be fragrant
Der Wein

duftet

nach Himbeeren. (The wine smells of raspberries.)
stinken = to stink 
Es

stinkt

wie nach Chemikalien. (It stinks like chemicals.)
Er

stinkt

vor Faulheit! (He's very lazy.)
schmöcke – to smell (Swiss-German)
Oh, das

schmöckt

ja fein! (That smells great!)
Conjugations of riechen in German
Präsens

Präteritum

Perfekt + haben

ich

rieche

roch

gerochen

du

riechst

rochst

er/sie/es

riecht

roch

wir

riechen

rochen

ihr

riecht

rocht

Sie/sie

riechen

rochen
*Note: riechen + nach (smells of/like)
Words commonly associated with the German verb riechen:
Adjectives:
Nouns:
A conversation about riechen and schmecken in Switzerland:
Typical nouns associated with smell in German are:
der Geruch = the smell
Es gibt mehr

Gerüche

, die wir riechen können, als es Wörter gibt und es gibt darüber hinaus noch 10.000 mal mehr, da der Geruchssinn des Hundes um diesen Faktor besser ausgebildet ist. (There are more smells that we can smell than there are words and there is also 10,000 times smells because a dog's sense of smell is that much better better.)
Ein Hund hat einen feineren

Geruch

als wir Menschen. (A dog has a better sense of smell than us humans.)
das Gestank = putrid smell / stink
Dieser

Gestank

ist unausstehlich. (This stench is unbearable.)
der Duft = scent
"Hunderttausend

Düfte

schienen nichts mehr wert vor diesem einen

Duft

. Dieser eine war das höhere Prinzip, nach dessen Vorbild sich die anderen ordnen mussten. Er war die reine Schönheit." ("A hundred thousand scents seemed worth nothing before that a fragrance. This one was the higher principle, by whose example the others had to organize. It was pure beauty.") (from Patrick Süskind, Das Parfüm)
die Witterung = scent (usually from an animal)
Der Jagdhund hat die

Witterung

aufgenommen. (The hunting dog picked up the scent.)
das Parfüm = perfume
"Je mehr er sie in diesem Augenblick haßte, desto mehr vergötterten sie ihn, denn sie nahmen von ihm nichts wahr als seine angemasste Aura, seine Duftmaske, sein geraubtes

Parfüm

, und dies in der Tat war zum Vergöttern gut." ("The more he hated them at that moment, the more they idolized him, for they preceived nothing of him as his usurped aura, his scent mask, his stolen perfume, and this was worth idolizing.") (from Patrick Süskind, Das Parfüm)
Dieses

Parfüm

ist mir zu aufdringlich. (This perfume is too strong.)
Expressions (Redewendungen)
Der Geruch

von Freiheit. (The smell of freedom.)

Der Geruch

sticht in die Nase. (The smell stings one's nose.)
im

Geruch

stehen etwas zu sein. (to be reputed to be something)
Was zur Hölle ist das für ein

Gestank

? (What the hell is that smell?)
Ein

Duft

kann viele Erinnerungen heraufbeschwören. (Scent can be very evocative.)

Duft

von firsch gemahlenem Kaffee (scent of freshly ground coffee)
Er

stinkt

vor Geld. (He stinks of money.)
Die Nase
Here is the anatomy of the bose in German.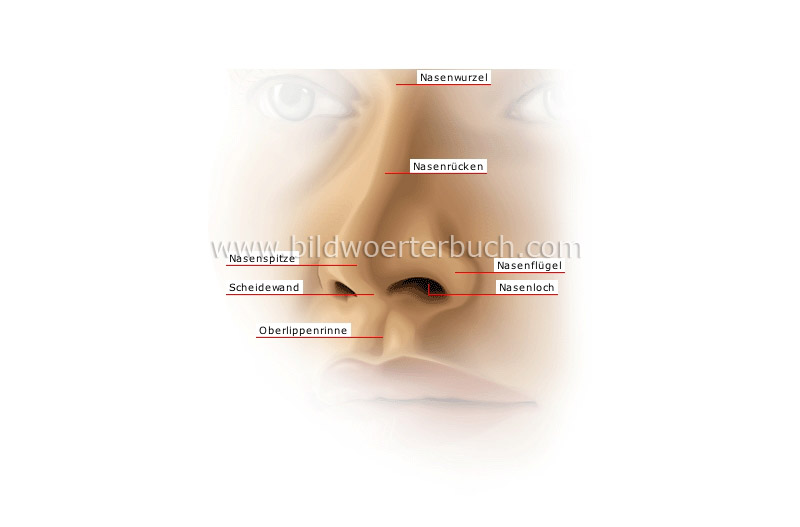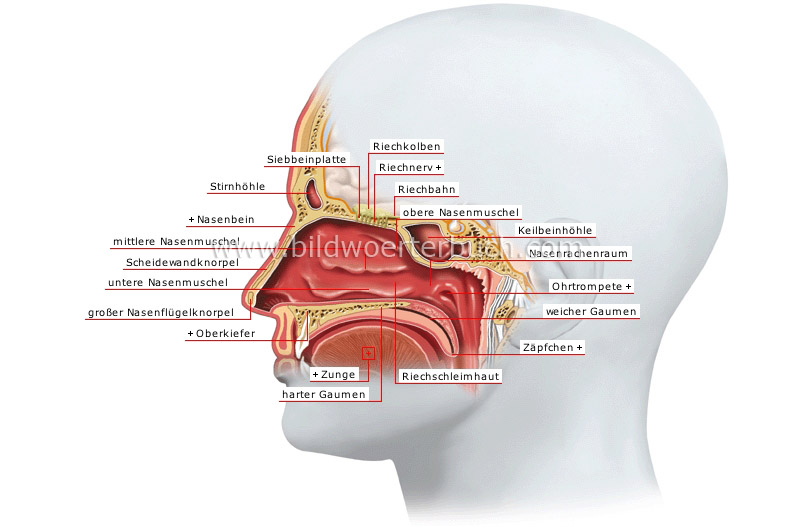 While smelling might not be a great way to learn a language, they do say that it's one of the senses that most invokes memories. This is why it's a good idea to practise your German and learn it in different places where unique smells will help you to remember situations and vocabulary better. Ein Duft kann viele Erinnerungen heraufbeschwören. Why not learn some German in a bakery/café with the smell of fresh bread?
Continue reading our series on the five senses in German by clicking on the links below.
Related Posts: