Die fünf Sinne Teil 5 Schmecken – Tasting in German
Once you've smelled a delicious wine, a Riesling or a Pinot perhaps, you can't wait to taste it. Schmecken is the sense of taste. As we learned above the Swiss-German word for riechen is schmöcke and that same word is used for schmecken. The two related senses are thus combined in Swiss-German. For most other German dialects the two words exist. Let's learn some vocabulary to talk about tasting in German. Perhaps you're already familiar with the word lecker, which you can use to describe things that taste good.
To get you started in thinking about food and eating, here's the trailer for the fil Bon Appetit, which was filmed in Zurich.
Learn these verbs for talking about tasting and taste in German:
schmecken = to taste
Ich

schmecke

eine Prise Senf in der Salatsosse. (I taste a hint of mustard in the salad dressing.)
kosten = to taste / to try
Koste

doch mal meinen selbstgemachten Kuchen! (Try the cake I made myself!)
probieren = to try something / to taste
Ich würde gerne ein Stück von diesem Käse

probieren

. (I would like to try a piece of this cheese.)
abschmecken = to taste something and check it / to add the finishing spices to a meal
Er

schmeckt

den Wein

ab

. (He's tasting the wine.)

Schmeck

die Sosse mit Wein

ab

. (Finish the sauce with wine.)
verkosten = to taste something like wine
Wollen Sie den Wein zuerst

verkosten

? (Would you like to try the wine first?)
schmöcke = to taste (Swiss-German)
Das hat ja gut

gschmöckt

. (That tasted nice.)
Conjugations of schmecken in German:
Präsens

Präteritum

Perfekt + haben

ich

schmecke

schmeckte

geschmeckt

du

schmeckst

schmecktest

er/sie/es

schmeckt

schmeckte

wir

schmecken

schmeckten

ihr

schmeckt

schmecktet

Sie/sie

schmecken

schmeckten
*Note: schmecken + nach
Common words associated with the German verb schmecken:
Adjectives:
Nouns:
Typical nouns associated with taste in German are:
der Geschmack = taste
Der Geschmack

erinnert etwas an Äpfel. (The taste reminds one of apples.)
Für meinen

Geschmack

ist das Schlagzeug zu laut. (The drums are too loud for my taste.)
der Appetit = appetite
Der Appetit

ist mir vergangen. (I've lost my appetite.)
die Kostprobe = a sample
Nehmen Sie bitte eine

Kostprobe

unserer neuen Marmelade. (Please try our new marmalade.)
Nach der

Kostprobe

kaufte er die getestete Marmelade. (After tasting it he bought the marmalade.) 
die Geschmacksrichtung = flavour / taste
Pudding in drei

Geschmacksrichtungen

. (Pudding in three flavours.)
Dieser Wein ist genau meine

Geschmacksrichtung

. (This wine is exactly my taste.)
der Vorgeschmack = foretaste / appetizer
Als kleinen

Vorgeschmack

auf das heutige Menü erhalten Sie zusätzlich eine kleine Gaumenfreude. (As a small foretaste to today's menu, you'll receive a small appetizer.)
der Nachgeschmack = aftertaste
Der Wein liess einen langen schönen

Nachgeschmack

von reifen Kirschen. (The wine left a long and pleasant aftertaste of ripe cherries.)
der Gusto = Appetit / your own way of doing something  
Hans hat einen

Gusto

auf Sahnetorte. (Hans has an appetite for layer cake.)
Das kannst Du ganz nach

Gusto

machen. (Do it as you please.)
Redewendungen:
das

schmeckt

nach mehr (That tastes like more. / It's more-ish.)
einen üblen

Nachgeschmack

hinterlassen (to leave a bad taste behind)
Über

Geschmack

lässt sich streiten (There's no accounting for taste.)
das kommt auf den

Geschmack

an (depends on your taste)
Guten

Appetit

! (Bon appétit)
En guete! (Bon appétit in Swiss-German)
Das war

lecker

! (that was delicious!)
Der Mund und die Zunge:
In case you need to go to the doctor about anything in your mouth, the following vocabulary might be helpful.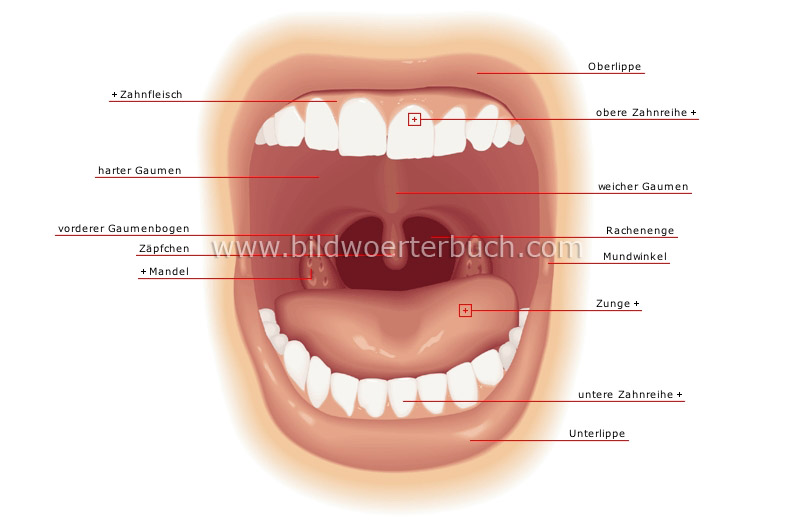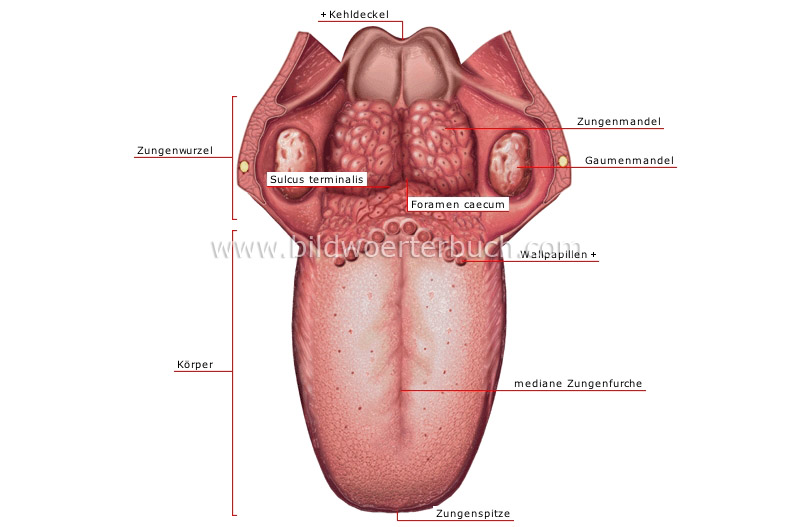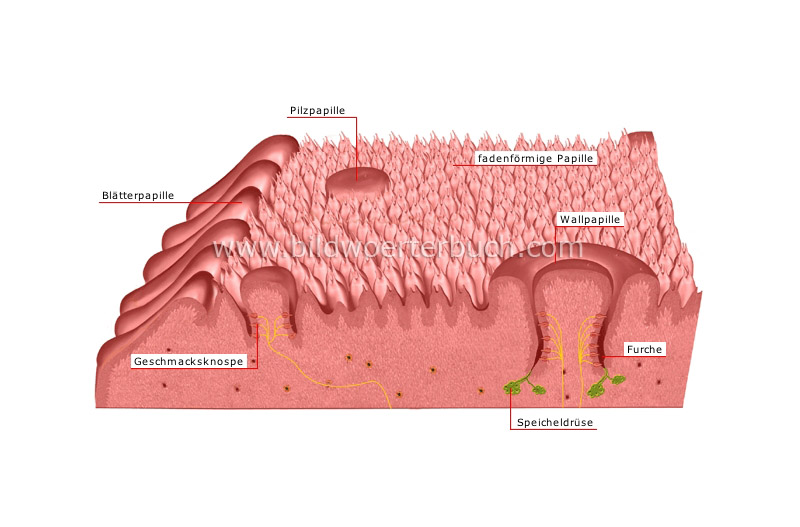 Culture, language and food belong together. When you're learning a new language try eating cuisine that belongs to that language group. Enjoy a meal with native speakers and you'll see how your language abilities improve… of course a few glasses of wine or beer will also help you loosen up and speak more freely.
Continue reading our series on the five senses in German by clicking on the links below.
Related Posts: