Visiting the doctor in German — zum Arzt gehen
Going to the doctor is never fun, but going to the doctor in a foreign language can add even more stress to a situation. With this in mind it's important to remember a few important things: bring proper medical paper, make sure you understand everything clearly, and keep a sense of humor about you.
In this post I'm going to give you some valuable medical terminology for your everyday ailments and possible medical emergencies.
The human body – der menschliche Körper:
First you'll need to learn the parts of the human body to make sure you can tell the doctor what hurts or where the problem is. The graphics are from the Pons Bildwörterbuch, which is a great way of learning vocabulary.
Der männliche Körper: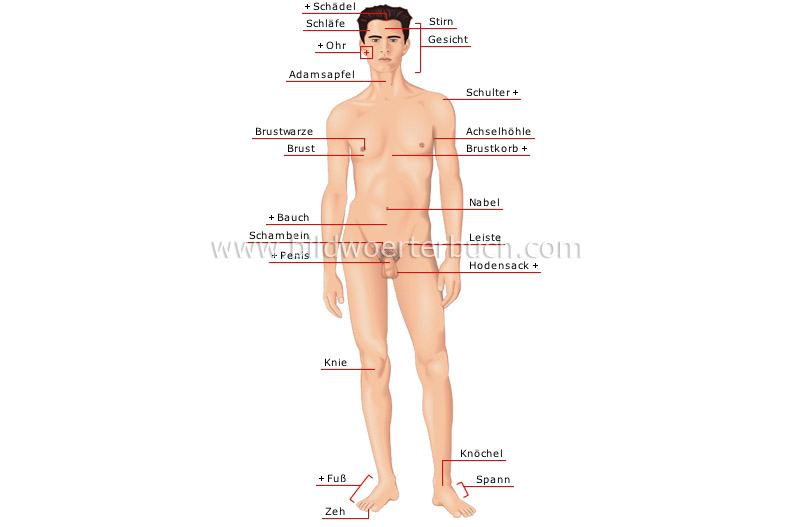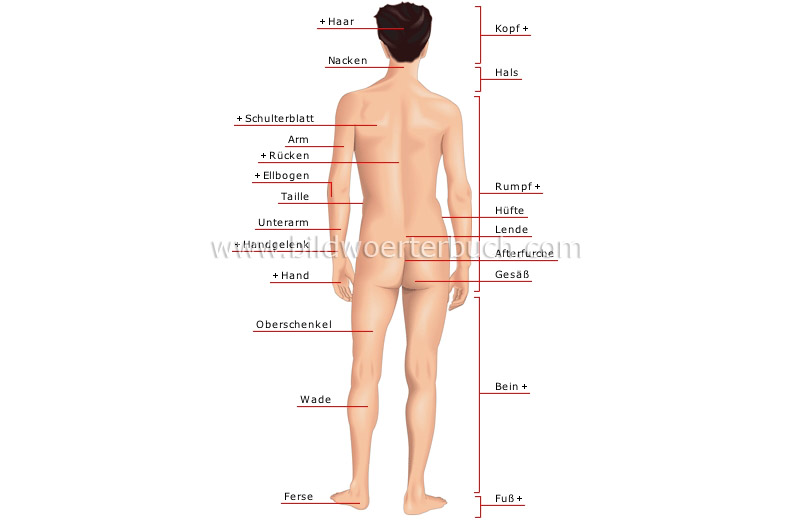 Der weibliche Körper: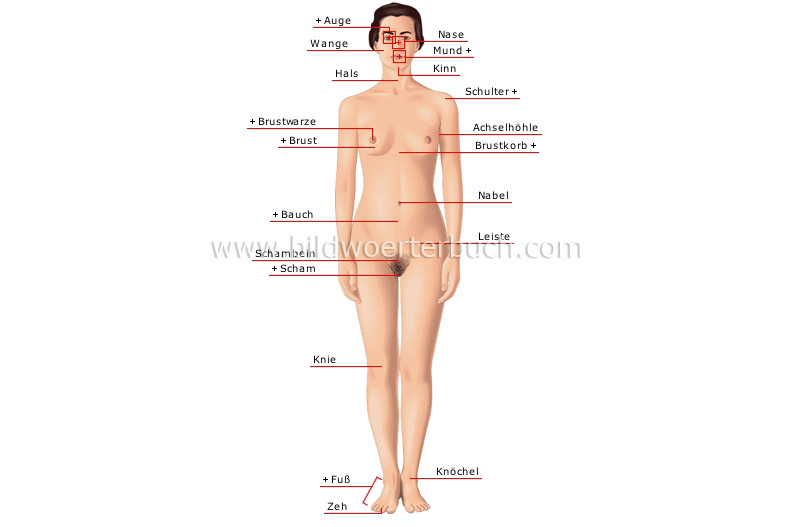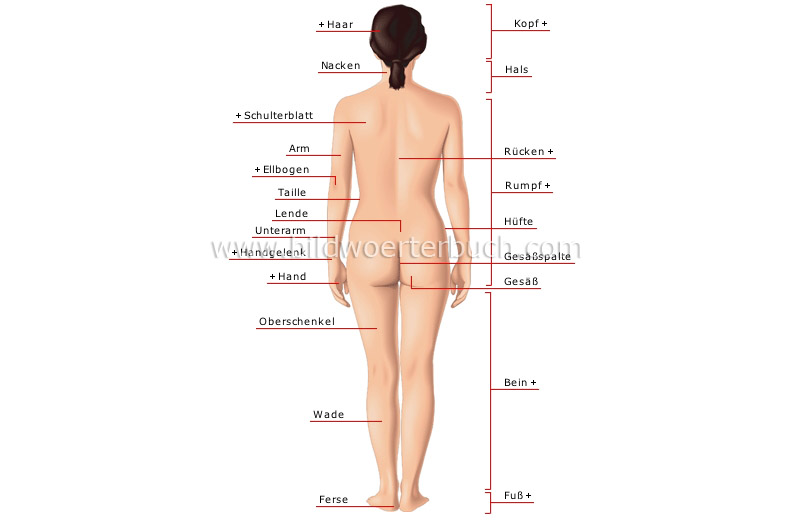 Common ailments — übliche Beschwerden:
Es gibt tausend Krankheiten, aber nur eine Gesundheit.
– Ludwig Börne
According to Matthew N. Parker, M.D. the 10 most common reasons for visiting a doctor are listed below. You'll notice that many have the same name in German because of their Latin and Greek origins.
 Hypertension (high blood pressure) — der Bluthochdruck (BHD) / erhöhter Blutdruck
Upper Respiratory Tract Infection — die Atemwegsinfektion (AWI) / Infektion der oberen Atemwege

coughs — der Husten
colds — die Erkältung
flu — die Grippe

Physical Examination — ärztliche Untersuchung

yearly physical / preventive medical checkup — die Vorsorgeuntersuchung
pre-employment physical — die Einstellungsuntersuchung

Diabetes Mellitus — der Diabetes mellitus (DM) / die Zuckerkrankheit / die Zuckerharnruhr
Sinusitis (sinus infection) — die Sinusitis / die Nebenhöhlenentzündung / die Nasennebenhöhlenentzündung
Bronchitis — die Bronchitis / die Bronchienentzündung / der Bronchialkatarrh 
Degenerative Joint Disease (arthritis) — die degenerative Gelenkerkrankung (DJD) / die Arthritis / die Gelenkenzündung
Asthma —

das Asthma

/

die anfallsweise auftretende Atemnot 

Otitis (ear infection) — die Otitis /

die Ohrenentzündung

Depression — die Depression
Medical emergencies — medizinischer Notfall:
I sincerly hope that you never find yourself in a medical emergency, but as the German saying goes: sicher ist sicher (just in case). Here are the twelve most common reasons for visiting the ER (die Notaufnahme) according to Discovery Fit & Health.
Chest pains — der Brustschmerz

heart attack — der Herzanfall / der Herzinfarkt / die Asystolie / der Herzkasper

Abdominal Pain — die Abdominalgie / der Abdominalschmerz / Schmerz im Unterleib / der Unterleibsschmerz

Food Poisoning — die Lebensmittelvergiftung / die Nahrungsmittelvergiftung

Toothache — der Zahnschmerz / das Zahnweh

abscesses — die Vereiterung (dent.) / der Abszess / die Eiterbeule

Sprains — die Verstauchung / die Verrenkung

to sprain one's ankle — sich (dat.) den Fuss verstauchen

Fractures (broken bones) — der Knochenbruch

compound fracture — mehrfacher Knochenbruch
displaced fracture — verschobener Knochenbruch
to set a fracture — einen Knochenbruch richten

Upper Respiratory Tract Infection — die Atemwegsinfektion (AWI) / Infektion der oberen Atemwege

coughs — der Husten
colds — die Erkältung
flu — die Grippe

Cuts — der Schnitt / die Schnitte
Contusion — die Prellung / die Quetschung / die Contusio / die Kontusion / blauer Fleck
Back Pain — der Rückenschmerz

lower back pain — Schmerzen im unteren Rücken
pain in the small of the back — die Kreuzschmerzen

Skin Infections — die Hautentzündung
Foreign Objects in the Body — das Fremdobjekt im Körper
Headaches — die Kopfschmerzen

stroke — der Schlaganfall
Doctors & Nurses — Mediziner und Krankenpflegende:
Depending on why you're going to the doctor you might be visiting a specific type of doctor. Remember that German generally has masculine and feminine word forms of professional titles unless we use substantivized nouns like Krankenpflegende. The feminine version of Arzt is Ärztin Here are some of the most common types of doctors that you may need to visit or be referred to.
General Practitioner (GP) — der Allgemeinarzt / der Allgemeinmediziner / der Hausarzt 
Allergist — der Allergologe / die Allergologin / Facharzt für Allergien / Fachärztin für Allergien
Cardiologist — der Kardiologe / die Kardiologin / der Herzspezialist / die Herzspezialistin
Dentist — der Zahnarzt / die Zahnärztin
Emergency Doctor — der Notarzt / die Notärztin / der Rettungsarzt / die Rettungsärztin
Dermatologist — der Dermatologe / die Dermatologin / der Hautarzt / die Hautärztin
Family Practitioner — der Hausarzt / die Hausärztin
Gastroenterologist — der Gastroenterologe / die Gastroenterologin
Gynecologist — der Gynäkologe / die Gynäkologin / der Frauenarzt / die Frauenärztin
Orthopedist — der Orthopäde / die Orthopädin
Pediatrician — der Pädiater / die Pädiaterin / der Kinderarzt / die Kinderärztin
Physiologist — der Physiologe / die Physiologin
Plastic Surgeon — plastischer Chirurg / plastische Chirurgin / Facharzt für plastische Chirurgie
Radiologist — der Radiologe / die Radiologin / der Röntgenarzt / die Röntgenärztin
Surgeon — der Chirurg / die Chirurgin
Urologist — der Urologe / die Urologin
Nurse — die Krankenschwester / die Krankenpflegerin / der Krankenpfleger
Pharmacist — der Apotheker / die Apothekerin
Other Vocabulary — Zusäztlicher Wortschatz:
While writing this article I came up with a little more vocabulary that might help you.
acute — akut / scharf / intensiv / heftig / stechend
minor — leicht
chronic — chronisch
poisoning — die Vergiftung
allergy — die Allergie

I'm allergic to … — Ich bin allergisch gegen…
Are you allergic to… — Sind Sie gegen … allergisch?

prescription — das Rezept / die Verordnung
x-ray – das Röntgenbild
pain killers — das Schmerzmittel / die Schmerztablette
antibiotics — die Antibiotika
emergency — der Notfall
accident — der Unfall
dizzy — schwindelig

I'm dizzy. — Mir ist schwindelig.

swollen — dick geschwollen 
to move (like a limb) — bewegen
What seems to be the problem? — Was fehlt Ihnen?
I'm not feeling well. — Ich fühle much nicht wohl.
I'm feeling nauseous — Mir ist übel.
Please enter the url to a YouTube video.
Exercises:
Imagine that you're not feeling well. In the German speaking countries if you don't deem the problem to be worthy of a doctor, you can go to the pharmacy (die Apotheke) and they will provide you with assistance. If they can't help go to the doctor. This exercise might be a common conversation at the pharmacy and then at the doctor.
In der Apotheke:
Sie haben Bauchschmerzen und gehen zur Apotheke, um Medizin zu kaufen.
Setzen Sie die richtige Form von haben und sein ein!
Du: __________ Sie etwas gegen Bauchschmerzen? (haben)
Apothekerin: Was __________ Ihnen denn? (fehlen)
Du: Ich weiss nicht. Seit gestern Abend __________ ich mich nicht so wohl. (fühlen)
Apothekerin: __________ es eine Lebensmittelvergiftung sein? Was haben Sie gestern Abend gegessen? (können)
Du: Ich habe bei Freunden gegessen. Sie __________ gesund. (sein)
Apothekerin: Hatten Sie Durchfall? War Ihnen übel? __________ der Schmerz stechend? (sein)
Du: Nein. Ich hatte keinen Durchfall. Mir war nicht übel. Es ist kein heftiger Schmerz. Ich fühle mich ganz allgemein nicht wohl.
Apothekerin: Waren Sie schon beim Arzt?
Du: Noch nicht. __________ ich ein Rezept? (brauchen)
Apothekerin: Für diese Tabletten brauchen Sie kein Rezept, aber wenn Sie sich morgen noch krank fühlen, __________ ich Ihnen, zum Arzt zu gehen. (raten)
Du: Zuerst möchte ich __________, ob diese Pille mir helfen können. (sehen)
Apothekerin: __________ Sie zwei Tabletten all vier Stunden. Ich hoffe, dass Sie sich bald besser fühlen. (nehmen)
Beim Arzt:
Am nächsten Tag sind Ihre Bauchschmerzen noch nicht weg. Sie gehen zum Arzt, wie die Apothekerin es Dir empfohlen hat.
Setzen Sie die richtige Form von haben und sein ein!
Arzt: Seit wann __________ Sie sich so? (fühlen)
Du: Schon seit zwei Tagen.
Arzt: __________ Sie Kopfweh? (haben)
Du: Kein Kopfweh, nur ein leichtes Bauchweh.
Arzt: Haben Sie Halsweh oder Husten?
Du: Das auch nicht.
Arzt: __________ Ihnen schwindelig? (sein)
Du: Nicht schwindelig, nur unwohl.
Arzt: Haben Sie vielleicht eine Änderung in Ihrer Routine erlebt?
Du: Ich bin erst Sonntag in die Schweiz gekommen und __________ eine neue Position in meiner Firma. (übernehmen)
Arzt: Aha! Vielleicht sind Sie etwas gestresst. Sie __________ sich ein bisschen entspannen. (müssen)
Du: Was __________ Sie vor? (schlagen)
Arzt: Eine Kur würde Ihnen guttun. Ich würde also so etwas empfehlen.
Du: Das __________ leider nicht in meiner Situation. (gehen)
Arzt: Dann __________ Sie wenigstens abends ein Gläschen Rotwein. Und gehen Sie früher schlafen. (trinken)
Related Posts: